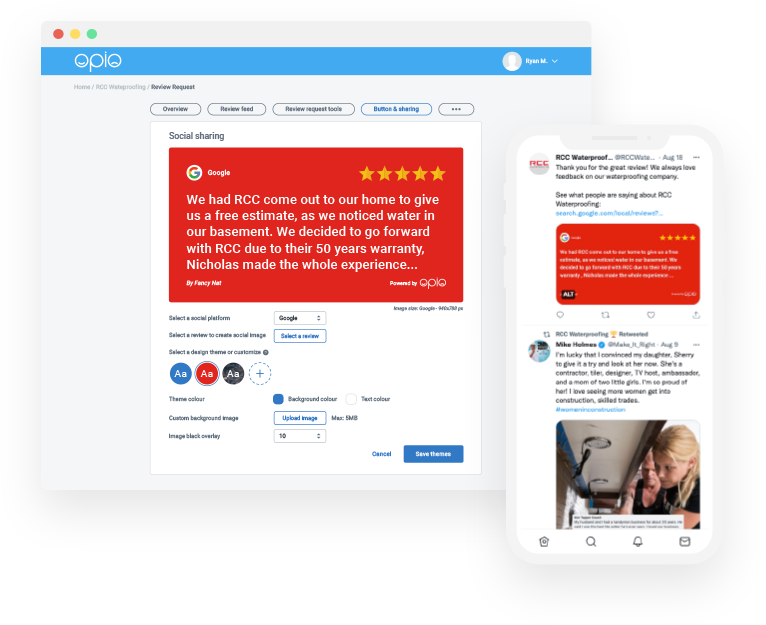 OPIO's New Social Share Feature
At OPIO, we strive to make it easy for businesses to share their reviews and engage with their customers. That's why we have recently launched our new social share feature for our review feed. This feature makes it simple and efficient to create stunning social media posts with just a few clicks – no design experience required!
With our social share feature, you can quickly and easily create beautiful social media posts from your OPIO review feed. Simply click the 'share' button, edit your post with the font and background colours of your choice, upload a background image, and choose which social media platform you will be posting to. You can even download your image in the proper size based on the social media platform chosen.
In addition, if you have a Google, Facebook or other third party review feed implemented in the OPIO dashboard, you can also create social share graphics from those reviews. This makes it incredibly easy to create beautiful and engaging posts to share with your customers.
We believe that businesses should take advantage of this feature to help increase engagement with their customers. By creating eye-catching and engaging posts, businesses can draw more attention to their reviews and encourage more customers to leave feedback.
So don't wait! Take advantage of OPIO's new social share feature and start creating stunning social media posts today!